The FIBA World Cup is a basketball tournament that captures the attention of fans worldwide. It's a stage where the best basketball teams from different countries come together to compete for glory. Team USA, a powerhouse in the world of basketball, has always been a dominant force in international play.
However, their undefeated run at the FIBA World Cup faced a stunning halt as they suffered an unexpected loss to Lithuania. In this blog post, we'll delve into the key highlights of this thrilling match and analyze what went wrong for Team USA.
Team USA, entering the game as 14.5-point favorites over Lithuania, were undoubtedly the heavy favorites. However, as the saying goes, "That's why they play the game." The first quarter of the match was nothing short of a disaster for the Americans, as they found themselves trailing 31-12, a deficit they would never fully recover from. Lithuania came out strong and delivered a resounding performance.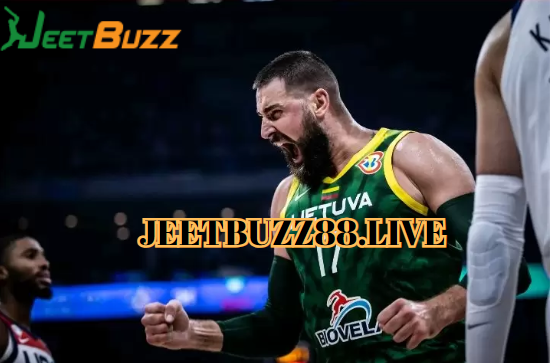 One of the standout players for Lithuania in this match was Jonas Valanciunas, a prominent figure in the NBA playing for the New Orleans Pelicans.
Despite facing foul trouble, Valanciunas managed to score 12 crucial points in the victory. What made Lithuania's performance particularly impressive was their balanced attack. It wasn't reliant on a single star player; rather, it was a collective effort that propelled them to victory.
On the other side, Team USA had their shining star in Anthony Edwards. He nearly single-handedly carried the team to victory with an astounding 35 points and five three-pointers. Edwards showcased his scoring prowess and demonstrated why he is considered one of the rising stars in the NBA. However, his remarkable performance alone was not enough to secure the win.
Two critical factors contributed to Team USA's downfall. First, Lithuania dominated the boards, outrebounding the Americans 43-26. This was largely due to Lithuania's bigger lineups, which allowed them to control the paint and secure crucial second-chance opportunities. Second, Lithuania's incredible three-point shooting, going 14-of-25 from beyond the arc, added to Team USA's woes. The combination of strong inside play and sharp shooting from the outside proved to be a winning formula for Lithuania.
While this loss was undoubtedly a disappointment for Team USA and its fans, it's essential to put it into perspective. In the grand scheme of things, this defeat doesn't carry as much weight as it might seem. Team USA had already secured qualification for the 2024 Olympics in Paris, thanks to Serbia's victory over the Dominican Republic. Additionally, their 4-0 record leading up to the Lithuania game ensured their spot in the knockout stage of the FIBA World Cup, regardless of the outcome.
In conclusion, the USA vs. Lithuania FIBA World Cup match was a thrilling contest that showcased the unpredictability and excitement of international basketball. While Team USA may have suffered its first loss, it's important to remember that setbacks are part of the game.